Local of the Congress
CENTROSUL- Centre of Conventions- Avenue Gustavo Richard, 850- Centre
88.010-290 – Florianopolis- SC
Secretary
It will work daily from 8 am to  6 pm, to your attention, explanations and information.
Identification Badge
It is necessary the permanent use of an ID badge for access to the Congress activities.
Please pay attention not to lose it.
Official Tourism Agency
Campus Eventos e Turismo will be to your service at the local of the congress.
http://www.campuseventos.com.br/
How to arrive to Florianopolis
International airport of Florianopolis – Hercílio Luz
Av. Diomício Freitas, 3.393, in Florianópolis
Phone: (48) 3331-4000
BY ROAD
Florianopolis is located 298 km at the south of Curitiba. The trip from there is taking the BR-101 road, going through cities of Joinville, Penha and Itajaí.
From the south, Porto Alegre city  at 472 km until the capital of Santa Catarina. The roads are the BR-290 and the BR-101, going through Torres, already in the border of the two States, and Laguna. In the BR-101, the entrance to Florianopolis is in the km 206, in the São José County. The trip goes on down the BR- 282, the called Road Expresses, until the bridge Pedro Ivo Campos, already in the entrance of the of Santa Catarina island.
Florianópolis Bus Terminal -Terminal Rita Maria
Av. Paulo Fontes, 1.101, Centre
Phone: (48) 3212-3100
FLORIANÓPOLIS
Population: 421.240 inhabitants (IBGE.Census 2010)
Territorial unit area: 436,5 km²
Altitude: 3m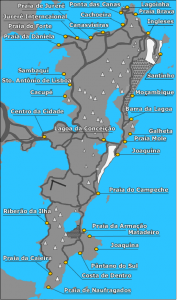 Climate
In the first months of the year days are very sunny and warm, with foggy in the early morning. The first fortnight of March still presents characteristics of summer, although with a bit more rain. From the second fortnight of March the quantity of rain diminishes, weather become more stable and already are expected the first signals of cold with the vicinity of the autumn. The average of temperatures in this period varies from 21 ºC to 30 ºC. The winter is marked by the arrival of cold fronts and the presence of masses of cold and dry air. The high regions can have frost periods. The climatic conditions also are favorable to fog in the early morning and at night. The average of temperatures in this period varies from 13 ºC to 22 ºC.
Check how is the weather in Florianópolis:
http://www.climatempo.com.br/previsao-do-tempo/cidade/377/florianopolis-sc
Public Urban Transport
http://www.guiafloripa.com.br/utilidades/onibus/sit.php3Check how it works the urban public transport in Florianopolis: Terminals, lines and schedules: